SOCIAL BOARDS
SERVES 2-4 GUESTS
Prosciutto & Arugula Flatbreads, Cheese & Spinach Dip, Riblets, Sweet Potato Fries & Thai Chicken Bites. $26.49
3X STREET TACOS
Choice Of Peri Peri Chicken, Blackened Steak & Brazilian Shrimp. $13.99
CHEESE & SPINACH DIP
Creamy Blend Of Cheeses, Spinach, Red Pepper & Red Onion. Served With Pita Crisps. $15.49
SALT & PEPPER RIBLETS
Served With Ranch For Dipping. $14.99
STEAK BITES
Tender Pan Seared Cajun Coated Steak & Mushrooms. Served With Grilled Garlic Bread. $15.49
Add Crumbled Blue Cheese.$1.99
WINGS
Available Dusted Or Classic. Choice of Roasted Red Pepper, Honey Garlic, Red Hot & Medium. $14.99
SWEET POTATO FRIES
Served With Sriracha Ranch. $7.99
THAI CHICKEN BITES
Hand-Cut Pieces Of Crispy Chicken Tossed In Thai Sauce. Served With Sriracha Ranch. $15.49
FORKS LOADED NACHOS
Seasoned Beef, Tomato & Jalapeno, Blend Of Cheeses & Green Onion. $16.79
Add Guacamole$3.99
CALAMARI
With Grilled Lemon & Sweet Thai Chili Sauce. $14.99
SPANISH GARLIC SHRIMP
Sauteed With Garlic & Chili Peppers In A Rich Tomato Brava Sauce. Served With Grilled Garlic Bread. $14.99
Lunch Menu
Menu Available Every Day Until 3pm
Takeout Available
SOUP & SALAD
Soup Of The Day, Mixed Greens Or Caesar Salad, Focaccia Bread. $11.50
FORKS CLUB
Grilled Chicken, Crispy Pancetta, Arugula, Tomato, Roasted Garlic Aioli On A Toasted Panini. Served With Your Choice Of Shoestring Fries Or Mixed Greens . $16.99
FLATBREAD COMBO
(Lunch Size)
Choice Of Pear & Gorgonzola Or Prosciutto & Arugula Flatbread. Served With Mixed Greens. $14.99
BUFFALO MAC N' CHEESE
(Lunch Size)
Cavatappi Noodles Tossed With A Buffalo Cheese Sauce & LOaded With Crispy Fried Buffalo Chicken. Topped With Crispy Bacon Bits. $14.99
TACO SALAD
Seasoned Taco Bowl, Mixed Greens, Fresh Avocado, Seasoned Beef, Shredded Cheddar, Green Onion & Creamy Salsa Dressing. $18.50
SPICY CHICKEN & CASHEW
(Lunch Size)
Pan Fried Chicken On A Bed Of Basmati Rice, Red Pepper, Snap Peas, Red Onion & Red Thai Sauce. $15.99
ROASTED BEET SALAD
(Lunch Size)
Roasted Red & Golden Beets, Mixed Greens, Arugula & Kale. Topped With Toasted Chickpeas, Goat Cheese, Spiced Pecans & House-Made Blueberry Balsamic Dressing. $13.75
CHICKEN QUESADILLA
A Baked Tortilla Shell Filled With Fresh Chicken Breast & Peppered Bacon, A Blend Of Cheeses, Tomatoes & Green Onion. Served With Salsa & Sour Cream. $13.99
TENDER CHICKEN FINGERS
Fresh House Made Chicken Fingers, Seasoned & Hand-Breaded. Served With Shoestring Fries & Honey Dill Dipping Sauce. $15.99
GRILLED PEAR SALAD
(Lunch Size)
Mixed Greens, Grilled Pear, Roasted Caramel Pecans, Goat Cheese, Red Onion, Red Pepper & Raspberry Vinaigrette. $13.75
Soup
Featured Soup Of The Day $6.50
French Onion $7.99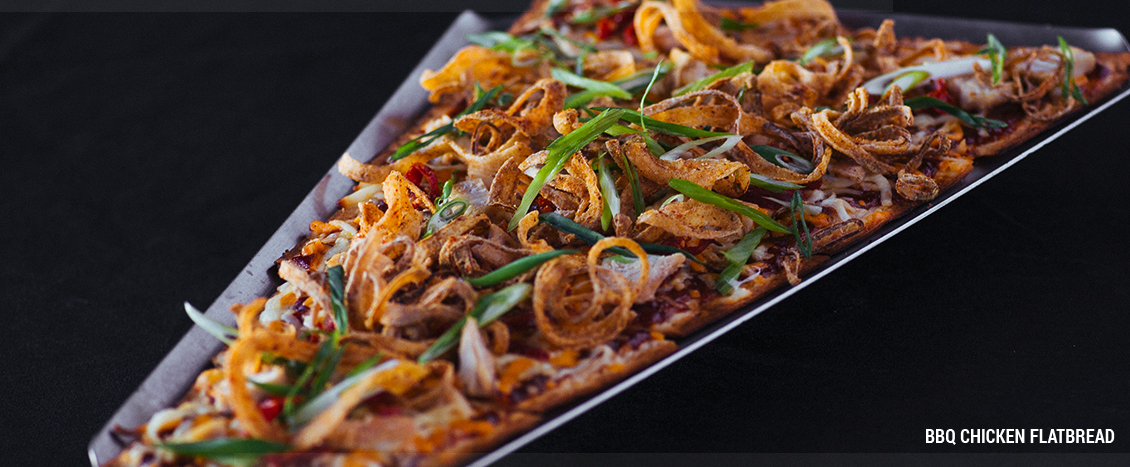 PEAR & GORGONZOLA
Roasted Garlic, Mozzarella, Fresh Spinach, Cremini Mushrooms & Pecans. $14.99
PROSCIUTTO & ARUGULA
Roasted Garlic, Mozzarella, Parmigiano & Infused Chili Oil. $15.99
BBQ CHICKEN
Blend Of Cheeses, Sun-Dried Tomato, Green Onion & Crispy Onion Strings. $15.99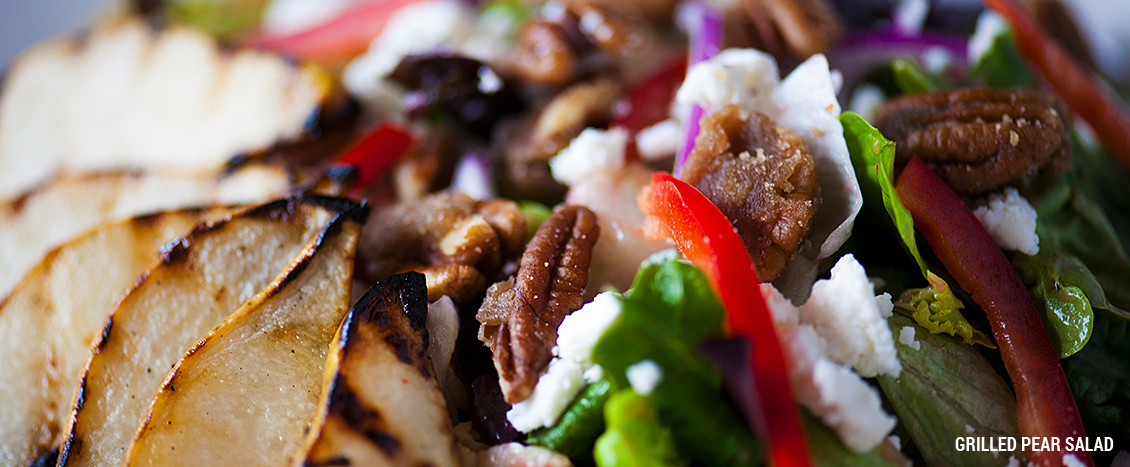 GRILLED PEAR SALAD
Mixed Greens, Grilled Pear, Roasted Caramel Pecans, Goat Cheese, Red Onion, Red Pepper & Raspberry Vinaigrette. $17.49
CHICKEN & ROASTED GARLIC CAESAR SALAD
Romaine Lettuce Topped With Crisp Bacon, Parmesan Cheese, Croutons & Signature Caesar Dressing. $18.49
TACO SALAD
Seasoned Taco Bowl, Mixed Greens, Fresh Avocado, Seasoned Beef, Shredded Cheddar, Green Onion & Creamy Salsa Dressing. $18.49
ROASTED BEET SALAD
Roasted Red & Goldon Beets, Mixed Greens, Arugula & Kale. Topped With Toasted Chickepeas, Goast Cheese, Spiced Pecans & House-Made Blueberry Balsamic Dressing. $17.49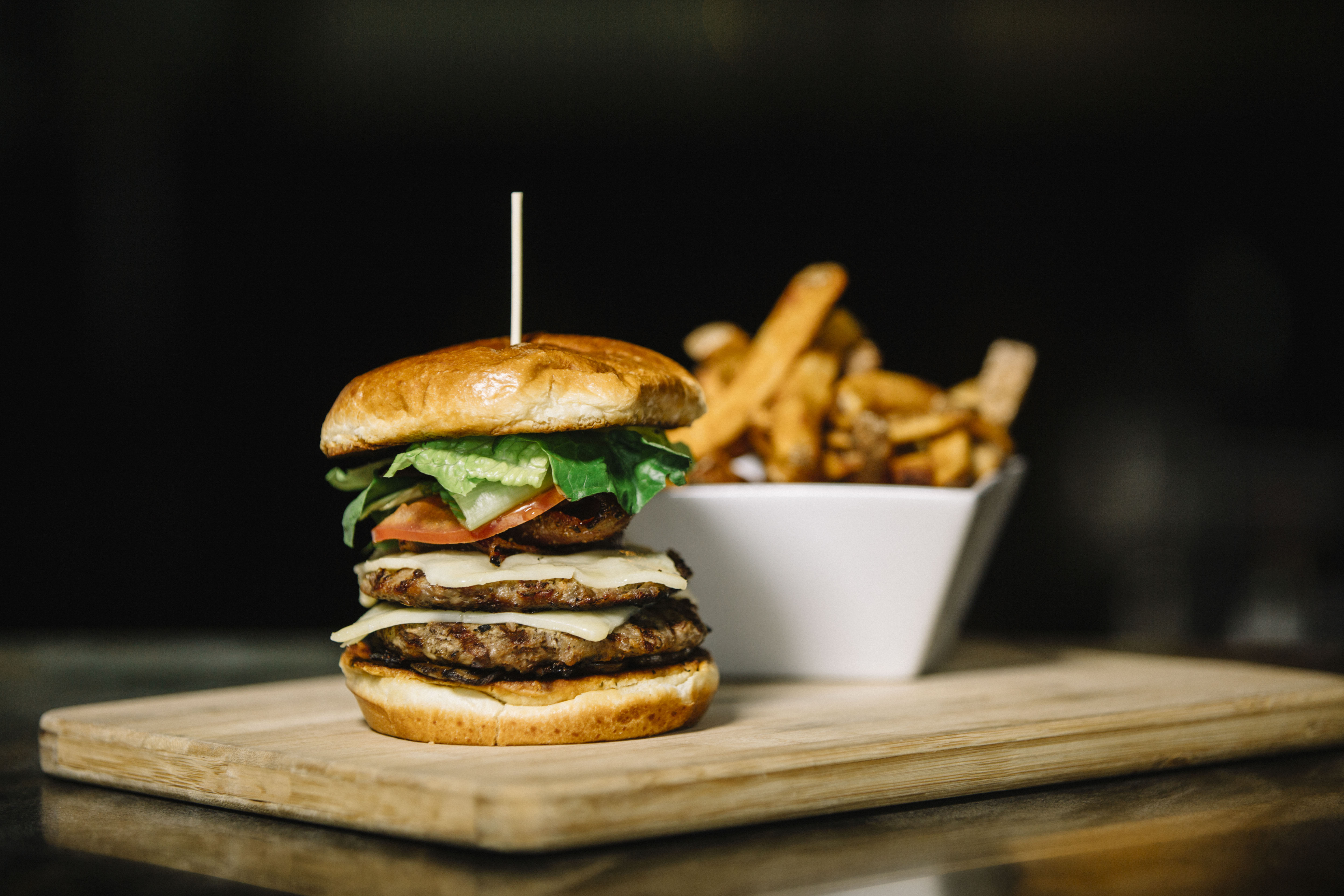 BURGERS AND SANDWICHES
Served With Your Choice Of Shoestring Fries Or Mixed Greens
FORKS BURGER
Smashed & Double Stacked! Sauteed Mushrooms, Peppered Bacon, Pepper Jack Cheese, Forks Sauce, Lettuce & Tomato. $17.99
PRIME RIB STEAKHOUSE BURGER
Steak Sauce, Applewood Cheddar, Roasted Pepper Onion Strings, Lettuce & Tomato. $18.99
BUFFALO CHICKEN SANDWICH
Hand-Breaded Marinated Breast Tossed In Buffalo Sauce. Topped With Crispy Bacon, Lettuce, Tomato & Roasted Garlic Mayo. $17.99
STEAK SANDWICH
Pepper Jack Cheese, Chimichurri Aioli & Crispy Onion Strings. Served Open Faced On Focaccia. $18.99
BANQUET BEER CHICKEN SANDWICH
Coors Banquet Brined & Grilled Chicken Breast, Applewood Cheddar, Pickled Slaw, Dijon Mustard & Onion Crisps. $17.99
CHICKEN PARMIGIANA
Linguine Noodles Tossed With Your Choice Of House-Made Marinara Or A Pesto-Alfredo Sauce. Served With Grilled Garlic Bread. $23.99
FORKS CHICKEN
Fresh Chicken Stuffed With Prosciutto, Smoked Gouda, Roasted Red Peppers & Basil. Topped With Heirloom Tomatoes & A Scallion Cream Sauce. Served With Seasonal Vegetables & Roasted Asiago & Garlic Potatoes. $23.99
SEAFOOD PASTA
Langostino Lobster, Crab & Shrimp Tossed In A House Made San Marzano Tomato Sauce. Served With Grilled Garlic Bread . $25.99
RUSTIC SALMON
Norwegian Atlantic Salmon, Lemon Butter Sauce, Garlic Balsamic Pepperonata, Grilled Potatoes & Arugula. $26.99
FISH & CHIPS
Hand-Coated In Crumbled Salt & Vinegar Chips. Served With Shoestring Fries, Slaw & Tartar. $18.29 
Add A 2nd Piece Of Fish. $6.99 
PORTOBELLO CHICKEN
Balsamic Cream Sauce, Seasonal Vegetables & Garlic Mashed Potatoes. $23.99
SPICY CHICKEN & CASHEWS
Pan Fried, Chicken On A Bed Of Basmati Rice, Red Pepper, Snap Peas, Red Onion & Red Thai Sauce. $23.49
BUFFALO MAC N' CHEESE
Cavatappi Noodles Tossed With A Buffalo Cheese Sauce & Loaded With Crispy Fried Buffalo Chicken. Topped With Crispy Bacon Bits. $19.49
STEAK + POTATO + GREENS
Grilled Steak & Potatoes, Arugula, Gorgonzola Cheese, Warm Pancetta & Sundried Tomato Vinaigrette & Onion Crisps. $21.99
SURF & TURF
Roasted Tender Steak & Sauteed Seasoned Honey Butter Jumbo Shrimp. Served With Seasonal Vegetables & Roasted Asiago & garlic Potatoes. $29.99
HERB & GARLIC ROASTED TENDER STEAK
Topped With A Garlic Mushroom Sauce & Roasted Pepper Onion Strings. Served With Seasonal Vegetables & Garlic Mashed Potatoes. $23.99
Social Menu
LOUNGE –
Monday – Saturday    3:00pm – 6:00pm & 9:00pm – Close
Sunday 1:00pm – Close
AVAILABLE FOR DINE IN ONLY
$3.50 EACH
STREET TACOS
Blackend Steak, Peri Peri Chicken Or Brazilian Shrimp.
$7.99
HAND CUT MOZZA BITES (x2)
With Sriracha Ranch.
CHEESE & SPINACH DIP
Served With Pita Crisps.
PICKLE FRIES
Served With Creamy Garlic Dipping Sauce.
THAI CHICKEN BITES
Served With Sriracha Ranch.
HOUSE MADE CHICKEN FINGERS (x4)
Served With Honey Dill Dipping Sauce.
Empty section. Edit page to add content here.